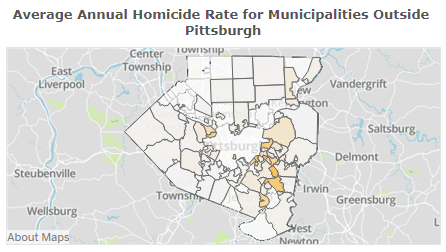 The dashboard below displays data about the homicides that have occurred in Allegheny County since 2007, demographics of the victims, and where the incidents occurred. Data is provided by the Allegheny County Office of the Medical Examiner and is updated monthly. A related report about homicides in the region is available here.
Customize the data
After selecting the "Homicide Trends" or "Locations of Homicides" view, use the dropdown boxes on the left of the dashboard to filter by time of incident, demographics of the victim and location of the incident. You can also filter by clicking on a chart within the dashboard; for example, clicking on "2018" in the "Number of Homicides Per Year" chart will filter the page to show only data for the year you have selected. Holding the control key allows you to choose more than one selection in a chart. Hover over data points for more detail.
Ready to explore different filters?
Click the "revert" button at the bottom of the page to clear all filters and start over.
Want more information?
Click on the "Data and Definitions" tab to view definitions of the terms used, data sources and data partners. For questions, email DHS-Research@alleghenycounty.us.
Problems viewing the dashboard? You can view it directly in Tableau Server.