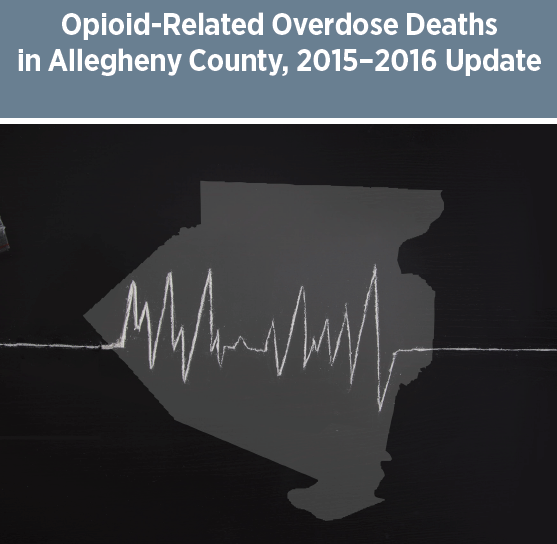 Allegheny County is experiencing opioid-related overdose rates higher than in the state and in the U.S. In 2016, 93 percent of overdose deaths in the County were opioid-related and 2016 represented the third consecutive year in which the number of fatal overdoses was higher than in any prior year. An increase in the presence of the synthetic opioid fentanyl has contributed to this trend, but there are a multitude of other factors contributing to the increase as well.
The following report and data visualizations, a joint effort of the Allegheny County Department of Human Services (DHS) and the Allegheny County Health Department (ACHD), present an analysis of available data sources on deaths resulting from opioid overdose.
Report
Data on opioid-related overdose deaths in the County from January 1, 2015 through December 31, 2016 is examined in this report. It is an update to a report we published in 2016 analyzing data related to opioid-related overdose deaths from 2008 through 2014. We list the changes to the epidemic that have occurred since the last publication and discuss their implications as well as noting demographic and geographic shifts.
Data Visualizations
Dashboards – Users can customize data in the interactive dashboards below to explore demographic information about individuals dying from opioid-related overdose as well as where fatalities are occurring. The autopsy data used is collected by the Allegheny County Medical Examiner's Office (ACOME) and it is refreshed monthly (with weekly updates).
Static Maps – The following maps provide information about the location of opioid-related overdose deaths that occurred from January 1, 2015 to December 31, 2016. Overdose locations were determined by incident address and mapped for Allegheny County municipalities, Pittsburgh neighborhoods and Pittsburgh City Council districts.
Heat Maps – The following heat maps use Allegheny County Office of the Medical Examiner (ACOME) data and enable users to filter overdose deaths in the County from 2008 through 2017 by time period. Certain information has been masked to protect individuals' identities.