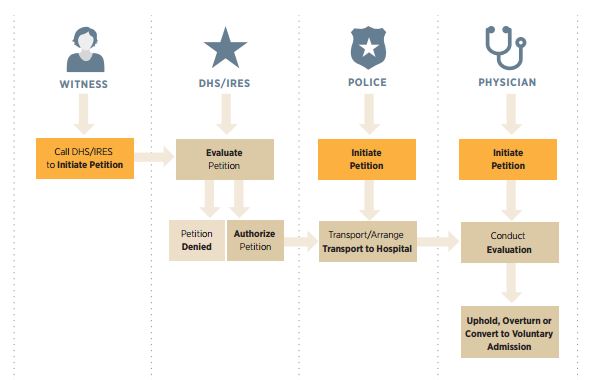 When individuals are exhibiting symptoms of mental illness that are unmanageable and may result in danger to themselves or to others, it might be necessary to hospitalize them for their own protection. This is known as an involuntary commitment, and the process of petitioning for this involuntary, emergency evaluation and treatment is specified in Section 302 of the Mental Health Procedures Act. For this reason, an involuntary commitment is often referred to as a "302."
In Allegheny County, petitions for involuntary commitment are managed and authorized by the Department of Human Services (DHS), through its Mental Health Information, Referral and Emergency Services (IRES) Data System, which is a 24/7 behavioral health crisis line. Callers are referred to an Allegheny County delegate who can authorize and coordinate an involuntary commitment or provide information on other mental health services.
These dashboards represent an interactive visualization of summary information related to the involuntary commitment process from petition to examination to inpatient admission as monitored by DHS through the IRES Data System from May 2014 to present. Use the charts in the dashboards to filter information and learn more about involuntary commitments in the County.